Mobile Personal Emergency Response Systems (mPERS)
Mobile Personal Emergency Response Systems, abbreviated as mPERS, refer to portable or wearable devices that allow people to connect to medical experts or an emergency response call center by just pressing a button on the device when they are in emergencies. Some devices also can initiate calls automatically in certain kinds of situations, for example in the case of someone who has fallen down.  This enables the end user to get immediate help even if he/she is in unconscious or restricted movement condition.
mPERS devices are usually small and light weight, so people could wear them around their neck, on a wrist band or put them in their pocket. By connecting to a certain type of network (could be cellular or Wi-Fi), the devices could support two-way communications between the end user and the pre-programmed emergency responder whenever it is needed. With GPS or other location related technology, mPERS devices could also track the location of the end user and make it easier for the responder to reach the place where on-site support is requested urgently.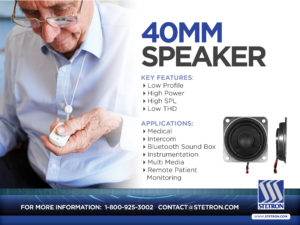 Due to the small form factor, mPERS devices usually require a quite compact design with limited space for acoustic components. However, at the same time, the voice quality of the final product is also a key feature that cannot be compromised. Stetron is able to provide a customized acoustic solution according to the specific mechanical housing design to help the devices achieve the best acoustic performance within limited space. Contact us today for more detailed information.