Define, Develop, Deliver: Stetron's Product Development Cycle
Stetron employs a 3D approach to product development. Each project starts with the DEFINE stage.  During this stage, the Stetron sales and audio engineering teams work closely with our customers to define clear deliverables. This is the most important stage of any project as it allows all stakeholders to set clear expectations. The constraints we seek to determine include schedule, cost, performance and risks. The DEFINE process could be iterative as customer's requirements may change or the product may have manufacturing challenges.  The project is formally kicked off with the assigning of a unique project number.
Stage two of Stetron's product development cycle is to DEVELOP the product to meet the agreed upon requirements. This stage can be as simple as proposing an existing Stetron design with simple modifications or it could be as complex as a ground up product development. The Stetron team manages every aspect of the product development to ensure the project scope, cost, quality, and schedules are on track and all risks are clearly identified and managed. This process involves both our customers and our manufacturing team in Asia.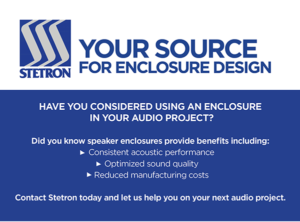 For the most part, Stetron audio engineering will lead this aspect of the product development cycle. As needed, the Stetron audio engineering team in North America can do simulations to suggest suitable enclosure type and back volume requirement. The simulation results can be verified by the Stetron North American team as it has at its disposal a fully functional audio lab – including an anechoic chamber. Our verification process includes making either 3D printed or CNC samples of proposed enclosure and performing all necessary acoustics tests.
To manage the quality and ensure the product complies with audio engineering specifications Stetron employs a two-step process. In the first stage the Stetron audio engineering and QC team in Asia would be at the R&D and production site to ensure the product being developed fully meets requirements. Once the Stetron audio engineering team in Asia confirms the product meets requirements the samples are shipped to North America for a final validation.
Once the Stetron North American audio engineering team verifies that the samples meet all specifications, the product development cycle enters the third phase which is to DELIVER the samples to our customers for their evaluation. Along with the samples, all relevant test data and specifications are also prepared for transmission to our customers.
The product development process can be cyclical depending on the needs of the customer. The Stetron team has the resources to manage each phase of the cycle to ensure our customer's expectations including cost, schedule, performance and quality are met. Please do not hesitate to contact Stetron for your total audio solutions.