Operation of an Electret Condenser Microphone (ECM)
Operation of an Electret Condenser Microphone (ECM)
As we discussed in our last blog Anatomy of an Electret Condenser Microphone, the basic structure of an Electret Condenser Microphone (ECM) is a pair of parallel plates, one of which is a moveable diaphragm, and another is a fixed back plate. A special layer of material called electret is attached either on the diaphragm side or on the back plate side. After charging, this electret layer can permanently hold a fixed amount of electric charge, making the two parallel plates form a parallel plate capacitor. The capacitance is proportional to the area of the plate and inversely proportional to the distance between the two plates, as represented as the formula below:

When sound waves strike the diaphragm, the diaphragm starts moving, and the distance between the two plates varies, thereby the capacitance of the parallel plate capacitor changes. Since the total amount of electric charge the capacitor holds is fixed, the capacitance change then leads to a change in voltage between the two plates which in turn results in a variable electric current to flow. The relationship between the voltage and capacitance is shown below:

The variable electric signal then is picked up and amplified by an integrated preamplifier (normally a FET) inside the microphone, and finally sent out as the microphone output. Although the electret material doesn't require external polarizing voltage, the preamplifier does need a small DC power supply, usually from 1V to 10V.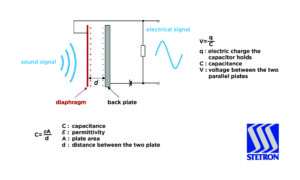 Have questions? Let us help. We are your source for audio solutions.
Email: contact@Stetron.com
Customer Service:
Canada: 1-877-716-0751
U.S.A: 1-800-925-3002