Testing Electret Condenser Microphones (ECM)
The basic building blocks for testing an electret condenser microphone for acoustic parameters consist of a sound source, test and measurement software and a means for displaying the results.
Stetron's typical set up for testing ECMs is shown below: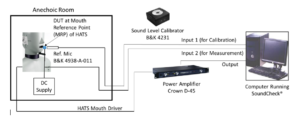 To initiate testing, we begin with calibrating our reference microphone using a calibrated B&K sound level meter. Once we establish that the calibration of our reference mic is valid the next step in the test set up is to do an equalization of the sound source. Stetron uses the industry recognized B&K mouth simulator on HATS (Head And Torso Simulator) as our sound source. Equalization of the sound source is a two stage process where in stage one our audio test and measurement software – SoundCheck- captures the frequency response of the reference loudspeaker in the mouth simulator and in stage two the response is equalized. Stetron does equalization at the mouth reference point (MRP) on HATS.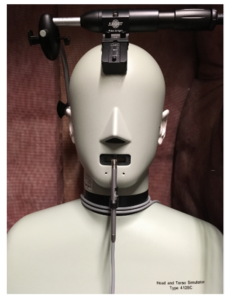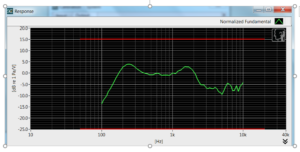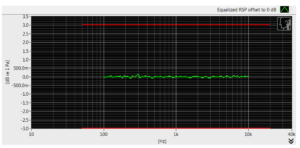 Finally the ECM is ready for testing. When the ECM is tested it is placed in close proximity of the reference microphone. This ensures that our results are accurate and repeatable.

Fig. 5 Typical results of ECM under test.Stetron can test all types of ECMs for all acoustic parameters including phase. For questions on microphone testing or any Stetron product, you can contact us at anytime via email: contact@stetron.com or by contacting Customer Service: Canada: 1-877-716-0751 U.S.A: 1-800-925-3002.