Stetron Announces Waterproof Electret Condenser Microphone
Buffalo, NY, Monday July 17, 2017: Stetron announces the introduction of a new Waterproof Electret Condenser Microphone to their product offering. Identified as part number EO040122242W0MGR, the Electret Condenser Microphone is available as IPX8 waterproof or water resistant up to 200 meters.
The microphone is intrinsically sealed and features a wide sensitivity range and frequency response as well as High SNR. Various connection methods are available including solder pad, pin, SMD and cable. Stetron can also customize the microphone size ranging from 4mm to 10mm. The new waterproof microphone would be ideally suited for wearables or IoT applications.
To learn more about this new waterproof electret condenser microphone, please visit https://stetron.com/products/eo040122242w0mgr/or contact stetron.contacts@Stetron.com.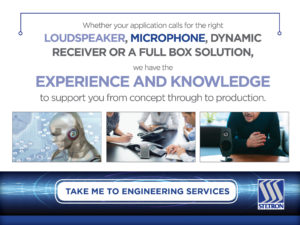 Stetron
Stetron is a premier supplier of custom audio solutions to fortune 500 companies worldwide. Established in 1965, Stetron has spent years fine tuning the product engineering of microphones, speakers, dynamic receivers and loudspeakers. Stetron's Asian based manufacturing coupled with North American engineering, delivers technically advanced products at competitive prices.
Stetron strives to provide the highest level of customer and technical support in the industry. They work with customers to fully understand their audio requirements and help them design solutions that meet their requirements. Stetron maintains a full anechoic chamber and uses sophisticated software to measure a number of parameters including: THD, Life and load testing, Thiele Small Parameters, Impedance and Environmental. Stetron provides a strong technical experience and data you can trust.
Stetron maintains a global presence with offices in Toronto Canada, Buffalo, NY, Taipei Taiwan, Ningbo and Foshan China.